Award Wining Vegan Documentary Film
Part sociological experiment and part adventure comedy, Vegucated follows three meat- and cheese-loving New Yorkers who agree to adopt a vegan diet for six weeks. Lured by tales of weight lost and health regained, they begin to uncover the hidden sides of animal agriculture that make them wonder whether solutions offered in films like Food, Inc. go far enough. This entertaining documentary showcases the rapid and at times comedic evolution of three people who discover they can change the world one bite at a time.
The new international edition of  the DVD includes Brazilian Portuguese, French, German, Hebrew, Spanish, and Traditional Chinese subtitles. Got friends or family members who speak any of those languages? Order your region-free copy for your Tio or Tante today!
DVD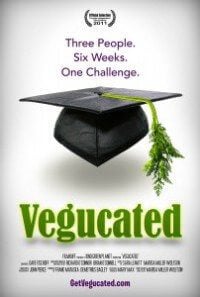 Includes the documentary (playable in all regions). DVD extras include a nutrition Q&A with Dr. Fuhrman, a stand-up comedy set with film subject/comic Ellen, plus options for closed captions and Brazilian Portuguese, French, German, Hebrew, Spanish and Traditional Chinese subtitles.
The DVD case is made with 100% recycled board stock, and uses vegetable oil-based inks.
Please note that this DVD is for private use only. A community screening kit is required for public viewing.
MSRP $23.99
Release Date: 10 September 2011