Vegan Glamping in Poland
What is Glamping?
Glamping is a short from glamour camping: camping in comfortable tents. Each of our tents is fully equipped with a full-sized double bed, a fridge, an air conditioner, a shower and toilets. On top of it all, the tents are fitted with a huge panoramic window, through which you can watch the mountains. Our glamping site is located in the mountains in the picturesque Kłodzko Valley.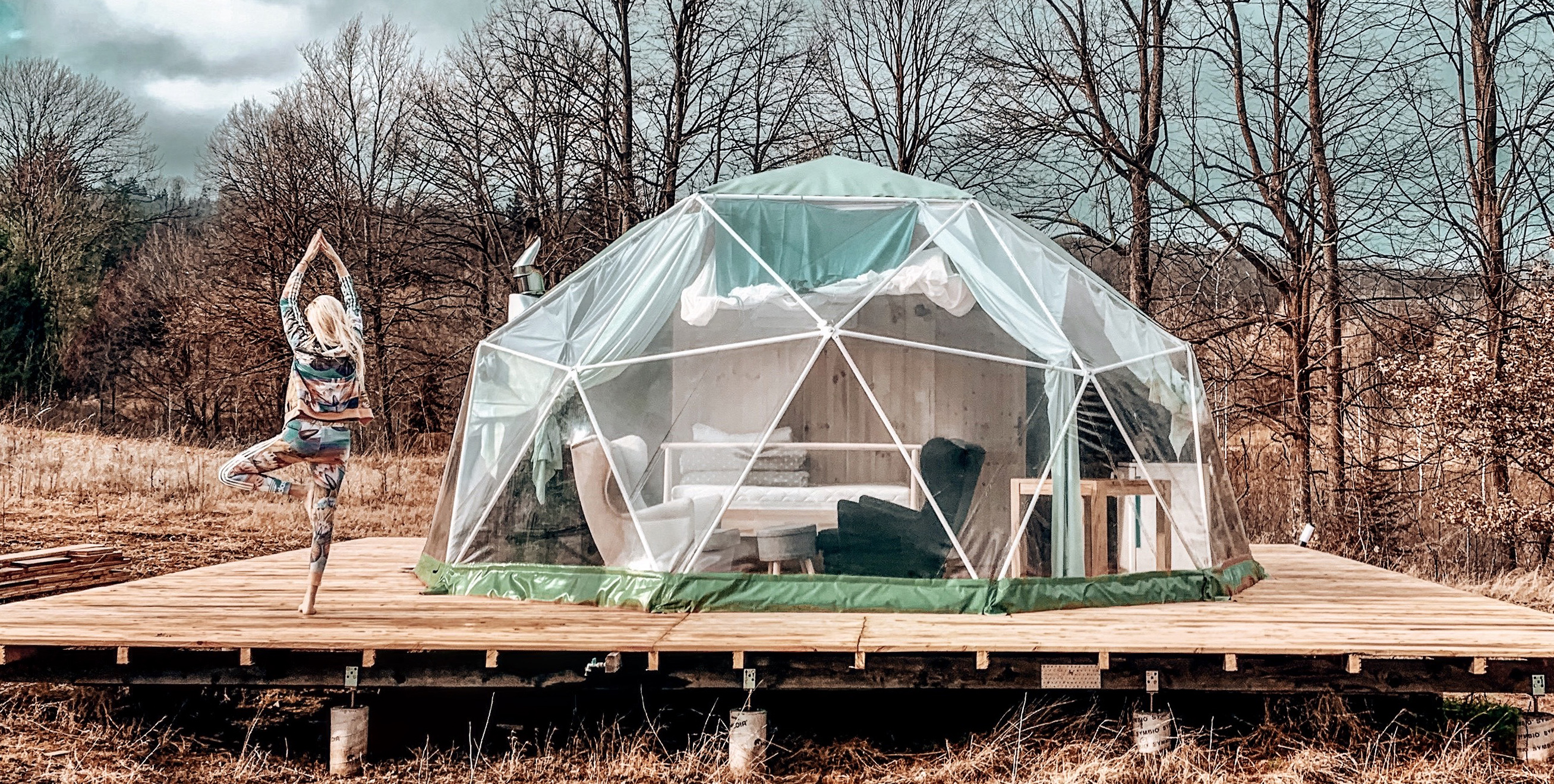 In our tents, the panoramic window is occupying the whole front of the tent perfectly set to watch the Śnieżnik massif. Imagine yourself sitting in a comfortable armchair with a mug of tea or a glass of wine and enjoying the beauty of the mountains. You can also lie down on the platform of the tent, turn off the light and watch the stars in absolute silence.
What does it mean "First vegan glamping in Poland"?
We serve only vegan food to our guests. You will not find any food that needed animal suffering to be made. We are the first guesthouse with both vegan food and spherical tents. Glamping was invented for people who want to stay close to the nature, but also put a value to comfort. We value the most comfort of our guests, that's why we offer comfortable spherical tents. Who said that sleeping in a tent has to be uncomfortable? Take a shower, lie on double bed, watch the mountains and listen to the birds!
Can I visit with my dog?

Of course you can! Spend your holiday with your dog, cat or goat! We love all animals and all of them are welcome in Vegan House. Glamping was invented to spent a comfortable time close to nature and if you love your pet, then you have to have it close to you. There are a lot of guesthouses that do not allow pets. We are not one of them and we also do not understand such an attitude. Pets are part of the family. All of the Vegan House crew have animals at home. Each of us remembers situations from the past when we were not allowed to take our animals with us somewhere. We do not want to put our guests in such an uncomfortable position.
Prices
Price for a tent includes stay for two on a double bed, with a possibility of extra child-sized bed, vegan breakfast and dinner for two. We do not add any extra fees. You pay only the amount you see during the reservation process.
Non-vegans
Everybody is welcome in Vegan House, meat-eaters too. Of course, we will not prepare any animal-based foods but we do not forbid eating meat in Vegan House. We respect everybody's views. We just kindly ask anyone who would like to grill meat in the open to remember that the smell of grilled meat might be annoying to the others who might also be guests of the Vegan House. Spending time in Vegan House might be a chance for meat-eaters to discover something new, like plant-based food! Are you up to the challenge?
You often ask us, if you can come to out of the season.
YES, because our season lasts all year round
?
Our spherical tents are heated with air-conditioning and a wood stove.
Come in autumn, winter, early spring, and if you want, book your stay in the warmer months now.
If you need a few words of encouragement, we have beautiful nature around, silence, Bystrzyckie Mountains and the Śnieżnik Massif at your fingertips. There is a free sauna and WiFi.

You can go on for a quick trip to Kłodzko on underground routes, go to the Trójmorski Wierch or to Dolna Morava for a walk in the clouds. There are ski centers nearby: Zieleniec Ski Arena, Czarna Góra Resort and Skipark Red Water Eagle Mountain. Right next to it we have cross-country ski runs.
Whether it's autumn or winter, you are welcome!
Reservations are accepted by phone +48 662 996 140 (Mon-Fri 8am – 5pm) or by email en@veganhouse.pl
See you at Vegan House! ?