Vegan Intentional Community in Hawai
Asante Gardens is a permaculture farm and intentional community located in the tropical zone of Lower Puna District, Big Island, Hawai'i.
Our farm is located about two miles from the ocean, where the climate is ideal for off-grid living and intensive food farming, with mild temps between the low 60's and low 80's year round, and plenty of sunshine. Rainfall is between 80 and 100 inches per year.
We are blessed with over 150 tropical fruit trees most of which are mature and producing. FRUIT TREE LIST.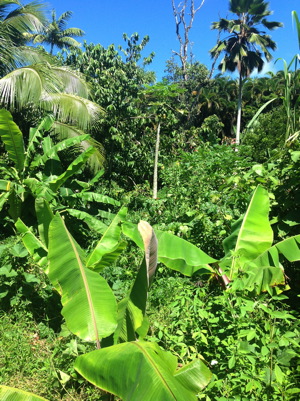 The Big Island
The Big Island is made up of two volcanic mountains, Mauna Loa and Mauna Kea. Mauna Kea is the highest mountain on Earth as measured from the sea floor. Kilauea volcano, on the southeastern slope of Mauna Loa, is one of the most active volcanoes in the world. The Islands of Hawai'i are also in the center of the Ring of Fire, a horseshoe shaped circle of volcanoes that make up 75% of the Earth's active volcanoes.
We are located in Lower Puna, where Kilauea is literally birthing new land into the ocean. The lava flowing from the caldera of Kilauea moves slowly down her slopes, and underground, into the ocean creating new land. Goddess Pélé is said to dwell in the crater of Kilauea.
While the population density is extremely low in our area, we enjoy a large per capita population of people involved in sustainability and alternative lifestyles – probably higher than anywhere else in the world! There are also many intentional communities and organic farms in the area, and we enjoy living within walking and bicycling distance to many other people who have settled here in this mecca of sustainability and community.
Over time we have learned that living in our area demands some time for adjustment and exploration to really understand the energy of this place and to know if one truly resonates with the idea of establishing a foundation here in this amazingly dynamic environment.
Our Mission
The mission of Asanté Gardens is to live sustainably and joyfully as a tribal group in a permaculture-based, tropical food forest environment. Our goal is to create a place of holistic and experiential education, by becoming a self-sustaining, thriving, model ecovillage.
As an ecovillage, we intend to: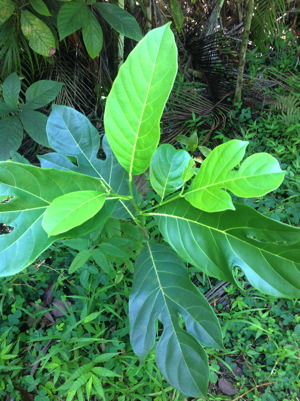 live harmoniously, joyfully, and in deep gratitude of one another
become economically and environmentally sustainable, with a minimal ecological impact
be a model for intensive tropical food farming, producing an abundance and surplus of food year round, while using natural and organic farming methods, and permaculture
use eco-friendly alternatives for power, water, transportation, and waste systems
use and promote eco-friendly natural building techniques, using local and low-cost materials
become largely petroleum-free
achieve a state of zero landfill waste produced
cultivate a tribal, village lifestyle, where each person is accessing and expressing their highest creative potential
cultivate an economy of giving, sharing, and thoughtful consideration of needs
promote compassionate, cooperative, and mindful living, as a way forward for human settlements on the planet, and to preserve and support ecosystems and the natural world
Healing & Learning Center
As the community begins to resonate and gain momentum in terms of being self-supporting and sustainable, and we are meeting our social and practical needs, then our community will begin to offer healing retreats and educational opportunities on a wide range of subjects related to sustainability such as: ecovillage living (social permaculture), yoga and meditation, permaculture for children, raw vegan lifestyle, and food forestry, just to name a few.
As Asanté Gardens matures and we begin to reap the fruits of our vision, we will stand in a unique position to show the world that a thriving ecovillage is possible – one that is based on compassionate, cooperative, and mindful living.