Vegan Farm Sanctuary in California
About Us
Founded in 1989, Animal Place's California animal sanctuaries fills a much-needed niche of farm animal rescue, sanctuary, education and adoption. Animal Place is one of the largest and oldest animal sanctuaries in the nation. We operate a 600-acre sanctuary in Grass Valley, California. Animal Place extends compassion to all life with a special emphasis on farmed animals. This is executed by providing permanent sanctuary, education, legislation and appropriate placement of needy animals.
Animal Place Sanctuary, Grass Valley, California
Animal Place's permanent shelter is a northern California tourist destination spot – nestled between Sacramento and Lake Tahoe, our 600-acre Grass Valley farm animal shelter is a testament to the beauty of the Sierra Foothills. Visitors are invited to tour the sanctuary on self-guided and guided farm tours. The 400+ animals at our refuge are permanent residents. See photographs of rescued animals!
Animals arrive from small and large farms, slaughterhouses, research facilities, and neglect or cruelty cases. All animals find a haven where all their needs are met and their individual quirks respected
In addition to providing sanctuary for farmed animals, Animal Place serves as an education and advocacy center. We offer tours, cooking classes and workshops at the sanctuary as well as volunteer and internship opportunities. Because factory farming takes the lives of 10 billion land animals each year in the United States, we promote a vegan, cruelty-free lifestyle. If you are ever in the area, we hope you can sign up for one of our tours and meet the wonderful residents at Animal Place.
Animal Place Rescue & Adoption Center, Petaluma, California
Animal Place's new Rescue & Adoption Center in Petaluma is focused on placing needy farmed animals into permanent homes. The Rescue & Adoption Center allows us to perform large scale rescues, and save thousands of lives a year. The work we do in Petaluma continues our adoption program previously known as Rescue Ranch. The property houses rescued animal–currently 700 chickens from our latest rescue–until they can find a forever home.
Visit
There are several ways you can meet the animals at our Grass Valley 600-acre farm animal sanctuary located at 17314 McCourtney Road, Grass Valley, CA 95949.
Self-guided tours – Stop by any day between 10:00 am – 4:00 pm and check out the animals while they play, lounge, snooze, and chat safely in their enclosures and barns. This is a great opportunity to get a feel for our sanctuary and see how content, happy, and safe all the animals are here. Self-guided tours do not allow you direct access to the animals.
Guided tours are generally on Saturdays and Sundays throughout the spring, summer, and fall. Each tour is $15/person and lasts two hours. This is your chance to interact directly with many of the residents, learn their powerful stories, and walk away with a deeper appreciation for life. LONG PANTS MANDATORY, BOOTS PROVIDED DURING RATTLESNAKE SEASON. Pre-registration is required. See available dates here.
**Available all year -Private tours are available year-round and are perfect for birthdays, anniversary celebrations, private gatherings, or for anyone who wants an intimate tour. Each tour is two hours and is led by one of our expert tour guides. You will meet and greet with most of the animals at the sanctuary. Scheduling is generally flexible with most days of the week/weekend available.Please email us to set up a tour. . Private tours are $150 for up to 10 guests, and $200 for up to 20 guests with an additional $15/person fee up to 25 people.
Events, small and large, occur throughout the year. Check out our calendar of events here..
School tours are available year-round and range in price from $3-10/student, depending on your needs. They range in time from 1-2 hours, depending on age of group. Email us to set up a class visit.
Our Guest House is available for daily rentals and include a 30 minute tour or a longer tour, for an additional fee. Rent a bed, room, or the whole house, located on 7-acres next door to our 600-acre Grass Valley sanctuary. Join animal caregivers for morning chores and enjoy a complimentary continental breakfast. Reserve your spot today!
GENERAL GUIDELINES
Leave companion animals at home: Many of our sanctuary residents are afraid of or aggressive toward unknown dogs and the summer weather is too hot to leave dogs in cars. Please leave your companion animals at home, where they will be comfortable and safe.
Long pants and closed toed shoes required: If you are attending a guided tour, you will need to wear long pants and boots. This is for your safety. If you are on a self-guided tour, we recommend closed toed shoes and long pants between the months of April and October, due to the presence of rattlesnakes.
Food: You are welcome to bring vegan/plant-based food for yourself and enjoy a picnic lunch under our pavilion. Food for the animals is not permitted unless you are on a guided/private tour. Many of the animals are on special diets and introducing too much of a new food can harm them.
Directions: Please review our directions. GPS can sometimes get you lost.
Cancellation Policy: Refunds are not given out if you cancel 48 hours or less prior to the tour.
Get Involved- Volunteer
So you want to do more with your love of animals? Muck out barns? Assist with running tours? Educate the public at events? Socialize with animals? If so, we'd love to have you! Join our volunteer family today!
Requirements
Volunteers must be 18 and older.
Reliable transportation to and from volunteer location.
Volunteer Opportunities
Animal transport: Assist our adoption efforts by transporting chickens to our Flock Partner shelters.
Education and outreach: Assist with guided tours, table at off-site events, help at sanctuary events.
Vegan Store: Help stock shelves, clean, and assist with events at our Berkeley vegan store, Animal Place's Vegan Republic
Volunteer opportunities are currently available at our main sanctuary in Grass Valley and at our vegan store in Berkeley.
Group Volunteer Opportunities
If your organization is looking for group volunteer opportunities, let Animal Place host your organization for a day of farmed animal fun! During your experience, you and your group will be able to learn about the history of Animal Place, help with barn cleaning, and meet our amazing animal residents! For more information and to apply, please visit the Group Volunteer Opportunities page.
If you have questions, please contact volunteer@animalplace.org
Donate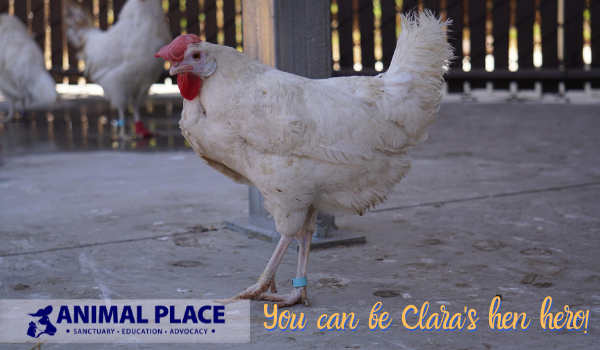 I wish I could bring you inside the egg farm where Clara spent 3.5 years. She never saw sunlight or felt the dirt between her toes. Imagine spending your whole life in an elevator with 10 other humans. It would be unbearable.
Clara does not have a full beak. Part of it was cut off as a chick. Hatcheries de-beak to prevent wounds caused by the stress of confinement. It would be no different if the first digits of your fingers were cut off at birth. There is lifelong discomfort from this mutilation.
At the farm, Clara was crushed by other birds. She suffers a permanent limp, likely from a poorly healed broken bone. Parts of her toes are gone, trapped in the metal flooring.
And while she has been freed from that cage, the stench of manure, and the screams of her cage-mates…she will never be fully healed physically. She will always limp and have difficulty walking.
That is where you can be her life-saver. Your donation of $25 provides Clara with ongoing pain management so that she can live as comfortably as possible.
Clara has been at our Rescue & Adoption Center since May of this year. She is one of 500 hens legally and freely liberated from an egg farm. Because of her injuries, she is not an adoption candidate. For the remainder of her days, she will enjoy sanctuary life here at Animal Place.
Adding another individual to the sanctuary, even one hen, adds expenses. You cannot avoid that when you care for each resident as a unique being.
We are moving Clara with 14 other hens from this rescue to our main sanctuary in Grass Valley. All require sanctuary care.
Clara and her friends eat a lot. So much of her body's energy is devoted to laying eggs. A hen has a small reserve of calcium to lay eggs during the spring and summer. Once that supply is depleted, her body draws calcium from her bones and protein from her muscles. Laying an egg a day causes severe discomfort and trauma to her body. She requires more food than the average hen.
With your donation of $50, you feed Clara and her flock mates for two days.
She joins a flock of more than 200 chickens at our main sanctuary, although she will integrate into a smaller flock of disabled birds. Health problems are common with many of the animals we rescue. In Clara's case, farmers bred these birds to lay 10 times more eggs than normal. Clara is at great risk of reproductive disease and osteoporosis.
Clara will never walk normally, and she will always have difficulty balancing. But that won't stop her from enjoying her life. She deserves every opportunity to thrive as any other rescued animal does.
Your $75 donations helps cover the costs of care for individuals like Clara.
Without you, there is no us. Without your support, we cannot do these rescues. Your gift goes from dollars and cents to food and bedding.
With compassion,
Kim Sturla
Executive Director